Baudville Brands Blog
Get to know more about Baudville Brands
Building Cultures, Changing Lives: Creative Cube May Recap
May 26, 2023
At Baudville Brands, we believe that inspired people inspire people. This belief is at the root of all we do and informs our mission to create positive energy that transforms companies, cultures, and communities worldwide. That's why this summer we are partnering with ACT, a local organization with an emphasis on inspiring and empowering.
What is ACT?
ACT (Artists Creating Together) is a nonprofit based in Grand Rapids, Michigan, that is dedicated to enhancing the lives of people with disabilities through the arts by offering a wide range of artistic and creative opportunities. These opportunities include visual arts, music, dance, and theater programs. Through their efforts, ACT seeks to break down barriers, challenge stereotypes, and promote inclusivity in the arts.
What is Baudville's Helping Hand?
Helping Hand is our charitable arm here at Baudville Brands! Created with the dream of providing children with lives of hope, dignity, and purpose, Helping Hand partners with charitable organizations who engage young people in the areas of education, public health, social justice, and more. Every year, 2% of Baudville Brands' profits are given in support of Helping Hand.
In celebration of 40 YEARS (!!) of Baudville Brands, Helping Hand is sponsoring ACT's Creative Cube for the 2023 season. The cube is an accessible mobile studio that brings the arts into every corner of the community.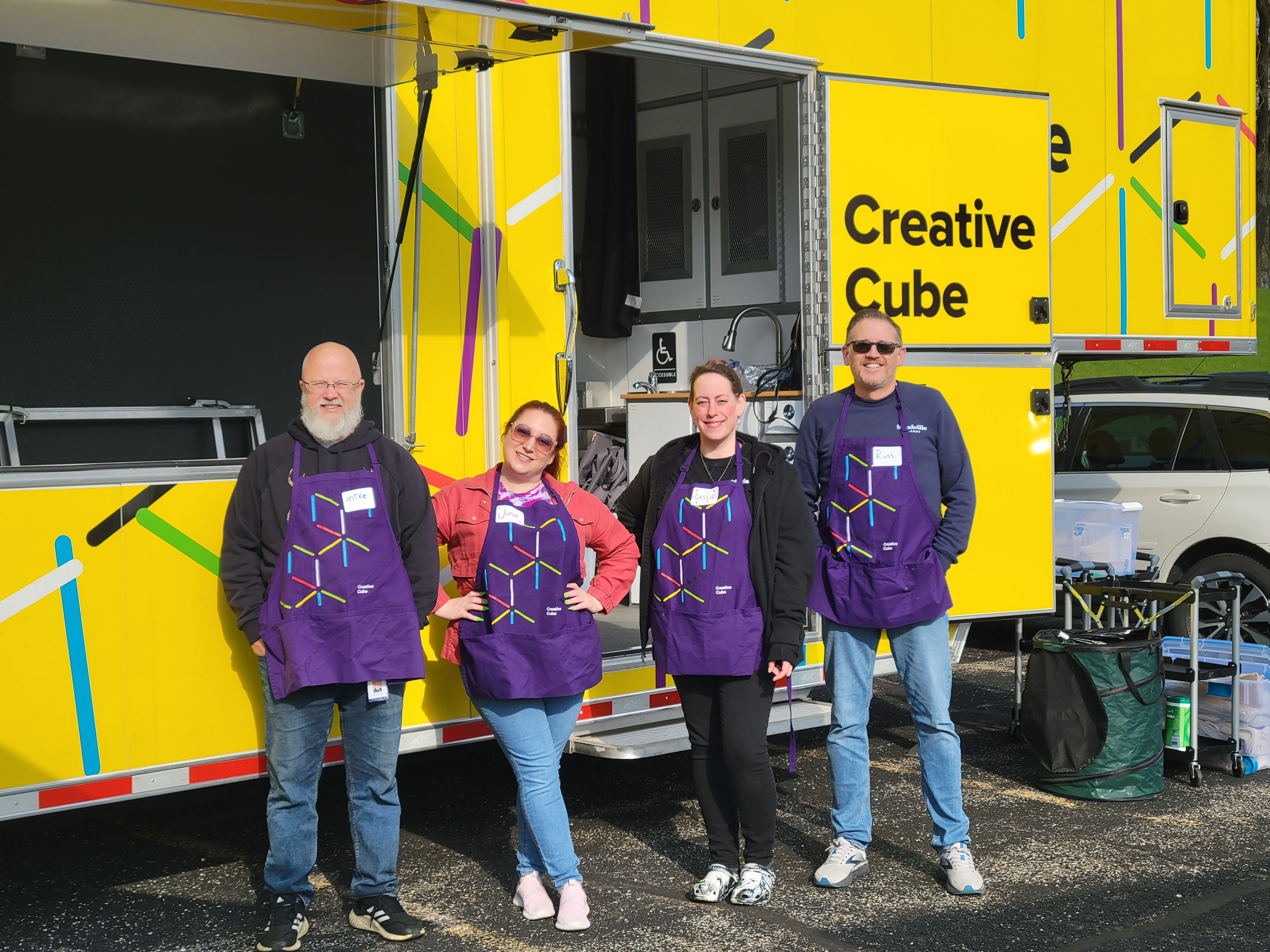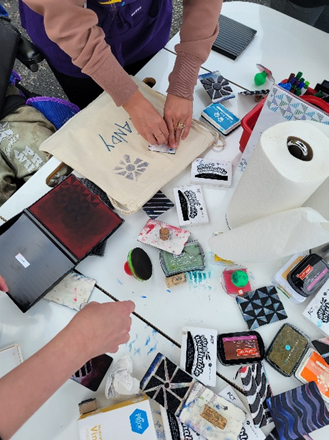 The May Recap
To kick off the 2023 season, Baudville Brands staff volunteered at four different locations including two schools, a developmental center, and a local ski area. Each volunteer left with renewed inspiration. Here's what some of them had to say:
"The day was wonderful! They bused in different special needs groups from all the Forest Hills Public Schools over the course of the day and had 3 different stations: creative art & play, movement, and music. Each student took part in each station and the excitement & enthusiasm these kids had was heartwarming. I was lucky enough to make several new friends including Liz, Emmett, Abby and Claire. Claire was a beautiful girl with Down Syndrome – she was bright & engaging, sweet as honey and an amazing artist! I went to bed thinking about these kids and woke up this morning thinking about them."
- Lindsay M., General Manager
"As we engaged in activities such as art, music, dance, and creative play with the students, we were constantly reminded of their incredible uniqueness and talent. It was incredibly rewarding to see the smiles on their faces and to witness firsthand the impact our time and effort had on them."
- Hannah P., Director of Sales & Marketing
"A highlight for me was watching Mike connect with a special young man named Nicholas who was eager to DANCE in our Creative Movement class. Mike sat next to him and demonstrated his legendary 'sprinkler' and 'lawn mower' moves. They were both laughing and just grooving together during the activity and it was so fun to see!"
- Juna G., Graphics & Process Improvement Manager
"Olivia's laughs during Creative Movement [was my favorite part]. She had THE best laugh!! She was ecstatic to be doing the handclaps and moving with the scarves. It was super sweet to see all of the kids & young adults from different classes come together for Creative Movement and see the bond they've formed as friends. Overall, it was an incredibly enlightening experience."
- Cassie D., Customer Experience Manager
Looking Ahead
With 4 events down and 13 (and counting!) events to go, we are so excited to continue this partnership all summer long. Make sure to follow along with Baudville Brands and our companies – Baudville and RecogNation – for monthly recaps and updates!
Looking for ways to help? ACT relies on community support, partnerships, and donations to sustain its programs and services. Click here to learn more.